📍Servicing
The Entire Bay Area
 
📞 1  (866) 664-BOLT
📞 1  (866) 664-2658
🕑 Mon - Fri
8:00 AM - 6:00 PM

Two locations serving the entire Bay Area, including North, South and East Bay
Our Services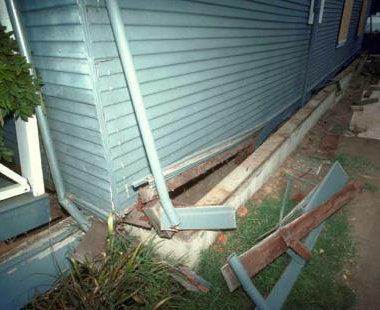 RESIDENTIAL SEISMIC RETROFITS

As you may already know, living in the Bay Area, there is a large probability of a seismic event.  Many people take steps to prepare their family for an earthquake.  However, it is also important to prepare your home.  Identifying and correcting
certain well known structural deficiencies can help avoid a tremendous amount of damage to existing  wood frame homes.
Evidence from past earthquakes and previous engineering studies have confirmed: Almost all serious damage to wood frame houses has been a result of either:

1) Insufficient connections between frame and foundation and/or

2) Insufficient lateral bracing (shear-strength) in the load bearing, supporting walls (cripple walls).

If a house has inadequate frame-to-foundation connections, it can be displaced completely from its foundation in a strong quake. Insufficient lateral bracing typically results in either a partial or complete collapse of the perimeter cripple walls, which form the basement and crawl space areas.  Either form of damage can amount to a total loss scenario for the homeowner.

Studies show that retrofitted homes in areas hit hard by earthquakes have performed well, with little or no structural damage.  A retrofit adds bracing and reinforcement to strengthen the critical connections between your foundation and your home.

Since many existing homes were constructed prior to the development of these newer code requirements, a retrofit may be necessary to increase structural safety. A home that has been retrofitted is able to resist much greater earthquake forces and has a lower risk of being damaged. 
PDF
We exclusively use Simpson Strong-Tie anchoring products in our retrofits because of their research, testing, engineering and innovation record. Click the link to the left to view the hardware and strict procedures we follow using the Simpson Strong-Tie "Seismic Retrofit Guide,"  which adheres to Standard Plan Set A, pre-approved by FEMA and ABAG (Association of Bay Area Governments).
REASONS TO RETROFIT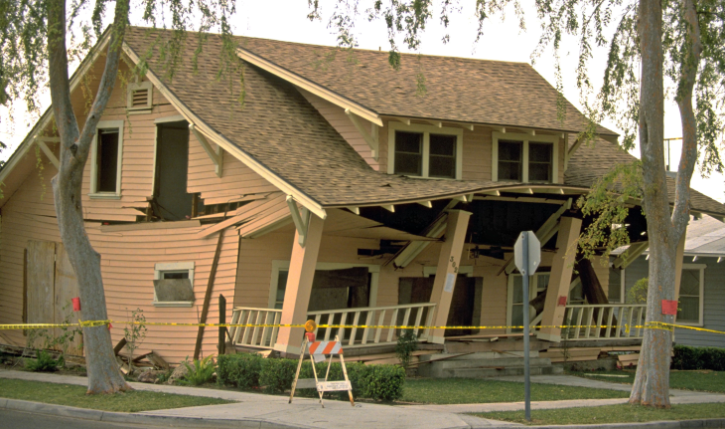 Your home will have a better chance of surviving the next big earthquake with less property damage.
Retrofitting your home may lower earthquake insurance premiums and deductibles.
Strengthening your home can add resale value.
Most counties and lending services are adopting a mandatory seismic upgrade before a home can be resold.
If you can keep your home on its foundation, there is a good possibility that your home will not be red tagged, while the minor repairs are completed.
How To Retrofit

One technique in seismic retrofitting is done by attaching the wood frame to the concrete foundation; using either anchor bolts or metal plates. This process is known as House Bolting or Seismic Upgrade. The hardware that is used is determined by the amount of room under your home.

Another procedure in retrofitting is the bracing or shearing of a cripple wall; the wall attached to the foundation with the structure resting upon it. Without retrofitting many buildings are seismically weak, and with great lateral force they can easily collapse.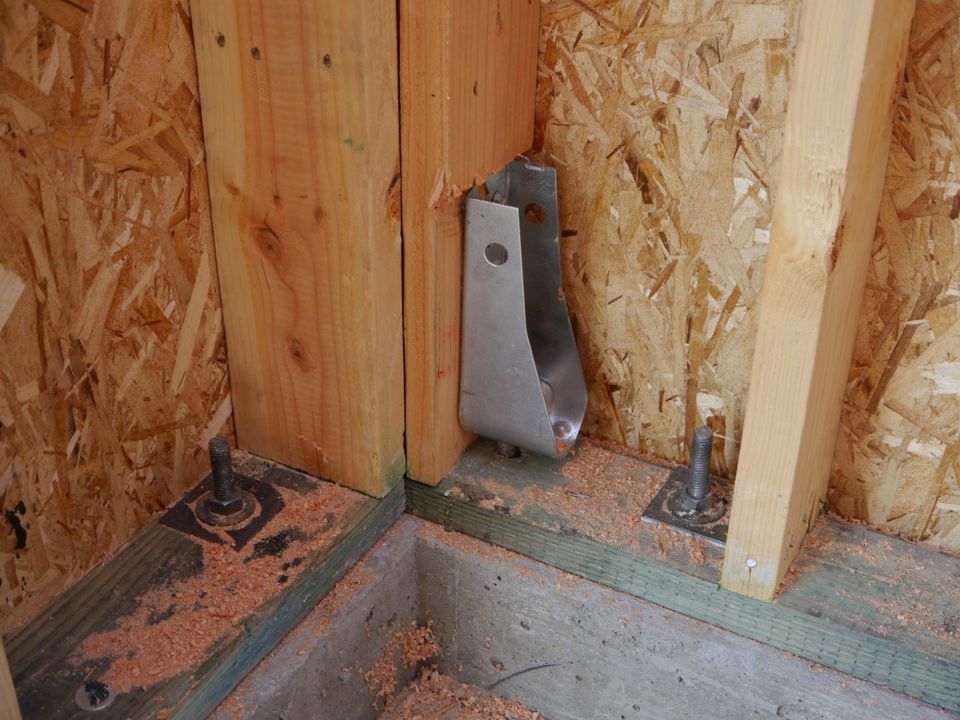 ANCHOR BOLTS AND HOLD DOWNS

The need for a solid connection between frame and foundation would seem obvious, and in fact most residential construction since the mid-1940s has utilized concrete anchor bolts which tie the mudsill to the foundation.  But this feature alone is not enough to ensure that a particular house is earthquake resistant.

The installation of holdowns, along with the anchor bolts, and or brackets, ensure the house is properly attached to the foundation.  Hold-downs are heavy, steel brackets designed to provide maximum strength at the connection. The bottom of the hold-down connects directly to the foundation by way of the anchor bolt; the upper end of the bracket connects to the wall studs by way of machine bolts or nails.  The result is that the supporting walls are connected to the foundation. Almost all retrofits are done from inside the crawl space or basement and are not visible on the exterior of the house.


SHEARWALL BRACING
Steel reinforced foundations, hold-downs, anchor bolts, and limited clearance connections, are a key step in retrofitting a wood frame home.  Another major area of potential weakness in most wood-frame buildings: insufficient lateral bracing in perimeter load bearing walls.  In addition to  proper connections, a building must have the capacity to resist  the lateral forces it will experience during an earthquake.  Engineers provide for this by designing shear walls, which are usually constructed from structural plywood panels and fastened to the framing of the house.  Shear walls can be included in original construction or retrofitted to an existing building.  Again, most retrofits are done from inside the basement or crawl space area, and are not visible outside the house.

Statistically, the collapse of perimeter cripple walls due to insufficient shear strength is the most common form of quake-induced structural damage to wood frame houses.  The lack of necessary shear strength can be a result of either poor workmanship or inadequate building codes at the time the home was built.